The Center for Frugal Innovation has published a new report on prospects of Indo-German collaboration in ensuring affordable healthcare with the help of bionanotechnology, also known as nanobiotechnology or nanomedicine, depending on the context. The report with the title "Leveraging bionanotechnology for sustainable and inclusive growth : prospects for Indo-German collaboration in ensuring affordable healthcare" has been prepared by Dr. Sadhana Tiwari and Prof. Dr. Rajnish Tiwari, and published by the Consulate General of India, Hamburg.
Abstract of the report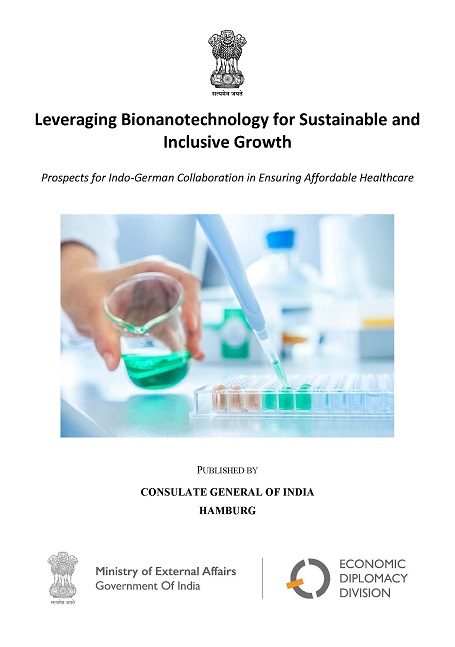 The field of bionanotechnology, sometime also referred to as nanobiotechnology, has emerged from the intersection of nanotechnology and biotechnology. Today, it constitutes one of the fastest growing research fields due to its enormous potential. A particularly promising area of application for bionanotechnology is Life Sciences or Healthcare, where nanomedicine can help with advance diagnostics and targeted, patient-specific treatment in an effective and speedy manner while reducing the use of resources. Thus, bionanotechnology shows high compatibility with principles of "affordable excellence" that lie at the roots of the modern concept of frugal innovation.
India and Germany both have made substantial progress in this field and many research institutions, universities, startups and established enterprises are active stakeholders of this industry, along with government bodies. Biomaterials, biosensors, functional systems, drug transport/targeting and implants are the five most active technology fields in Germany's nanobiotechnology sector, while a strong focus can be observed in the application areas of diagnostics, medical devices, therapeutics and regenerative medicine within the Health/Pharma sector. These areas coincide with India's thrust areas of research that is, however, still largely concentrated in research institutions. A bilateral cooperation between India and Germany can be highly rewarding as it can use complementary strengths of the respective ecosystems and help each other in overcoming their weaknesses, e.g. in ensuring translational research, developing common regulatory/safety standards, better utilization of resources & infrastructure, and creation of cutting-edge knowledge through joint research and exchange programs for researchers, scientists, students and entrepreneurs to intensify interaction.
Continue reading