The Center for Frugal Innovation has published a new report on prospects of Indo-German collaboration in ensuring affordable healthcare with the help of bionanotechnology, also known as nanobiotechnology or nanomedicine, depending on the context. The report with the title "Leveraging bionanotechnology for sustainable and inclusive growth : prospects for Indo-German collaboration in ensuring affordable healthcare" has been prepared by Dr. Sadhana Tiwari and Prof. Dr. Rajnish Tiwari, and published by the Consulate General of India, Hamburg.
Abstract of the report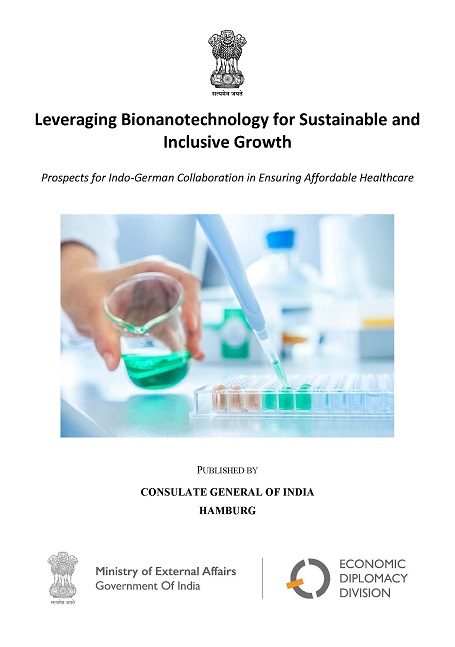 The field of bionanotechnology, sometime also referred to as nanobiotechnology, has emerged from the intersection of nanotechnology and biotechnology. Today, it constitutes one of the fastest growing research fields due to its enormous potential. A particularly promising area of application for bionanotechnology is Life Sciences or Healthcare, where nanomedicine can help with advance diagnostics and targeted, patient-specific treatment in an effective and speedy manner while reducing the use of resources. Thus, bionanotechnology shows high compatibility with principles of "affordable excellence" that lie at the roots of the modern concept of frugal innovation.
India and Germany both have made substantial progress in this field and many research institutions, universities, startups and established enterprises are active stakeholders of this industry, along with government bodies. Biomaterials, biosensors, functional systems, drug transport/targeting and implants are the five most active technology fields in Germany's nanobiotechnology sector, while a strong focus can be observed in the application areas of diagnostics, medical devices, therapeutics and regenerative medicine within the Health/Pharma sector. These areas coincide with India's thrust areas of research that is, however, still largely concentrated in research institutions. A bilateral cooperation between India and Germany can be highly rewarding as it can use complementary strengths of the respective ecosystems and help each other in overcoming their weaknesses, e.g. in ensuring translational research, developing common regulatory/safety standards, better utilization of resources & infrastructure, and creation of cutting-edge knowledge through joint research and exchange programs for researchers, scientists, students and entrepreneurs to intensify interaction.
The study suggests a three-pronged approach for a bilateral cooperation: (a) identify promising avenues of cooperation, (b) pool resources, and (c) develop frugal solutions that have high chances of diffusion across the globe. The potential market-size and the lead market function of India in the field of frugal innovations can help the solutions that are developed in bilateral (or eventually multilateral) cooperation achieve faster commercial success while raising standards of living for all potential beneficiaries of the scientific progress, across the globe. This would make a very valuable contribution to the achievement of the Sustainable Development Goal (SDG) #3 related to "Good Health and Well-being".
About the authors
Dr. Sadhana Tiwari is a postdoctoral scientist at the Institute for Nanostructure and Solid State Physics of the University of Hamburg. She specializes in conceptualization of "affordable excellence" targeted at societal development by reducing total cost of ownership, minimizing use of natural resources and enhancing quality. She was awarded a joint PhD degree by the Indian Institute of Technology Bombay (IIT-B, Mumbai, India) and the Monash University (Melbourne, Australia) for her research in the area of Bionanotechnology. Before choosing a research path, she studied Biotechnology and Nanotechnology earning MSc and MTech degrees from G.J. University of Science and Technology, Haryana. Her specialization is in the development of biosensors. She collaborates with the Center for Frugal Innovation of the Hamburg University of Technology (TUHH) in her research on affordable biosensors.
Prof. Dr. habil. Rajnish Tiwari is professor for Business Administration and Global Innovation in the faculty onlineplus (OLP) of the Hochschule Fresenius University of Applied Sciences at its Hamburg Campus. He has co-founded the Center for Frugal Innovation at the Institute for Technology and Innovation Management (TIM) of Hamburg University of Technology (TUHH) and is a member of its Board of Management. He has acted as an Adjunct Faculty at Manipal Institute of Technology in India and has advised Germany's Federal Ministry of Education and Research (BMBF) as a member of the Advisory Circle for its Innovation and Technology Analysis program (2014-17) with a special focus on "New Global Innovation Pathways". Dr. Tiwari is a co-initiator and co-organizer of the series of (biannual) India Weeks in Hamburg. He also heads the Hamburg chapter of German-Indian Round Table (GIRT), dedicated to promoting the bilateral economic relations.
About the study
Publication of this report was financially supported by the Economic Diplomacy Division of the Ministry of External Affairs, Govt. of India.